The Creating Space Process
The process starts with your call to us. During that call we will discuss what your plans entail and have an initial discussion about your budget for the project.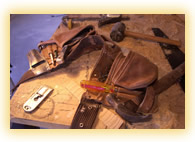 The next step is to visit your home to get to know each other and to have an in-depth conversation about the proposed budget. At this time we will talk about priorities and design details. Assuming we are a good fit, we will take the information gained from the meeting and prepare a preliminary cost estimate.
Following the visit, we will present the preliminary cost estimate and make whatever modifications may be necessary. Final material selections are made at this time. Any cost or selection issues that cannot be finalized at this meeting generally become "allowance" items in the sales contract.
Upon final agreement you will be presented with a written contract that will include the "scope of work" and payment schedule. Upon receipt of your initial deposit your project will be solidified on our calendar.